,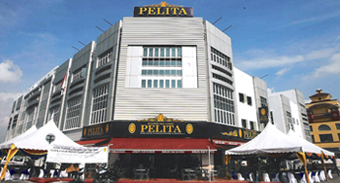 The origin of nasi kandar, an Indian Muslim dish, can be traced to the very streets of colonial Malaysia. Here, amidst the proud houses and bustle of life, a lone figure would trek through the dusty streets, bearing baskets of food and rice hanging from a yoke across his shoulder. Tantalising aromas of fragrant curries, vegetables, fried fish, beef and chicken would precede his arrival as he went from house to house, hawking his fare.
Hence the name, 'nasi kandar', came from how this popular dish was delivered - nasi (Malay for rice) and kandar (Malay for yoke).
Later, as towns grew and the pace of life changed, the traditional nasi kandar hawker would put down his yoke and set up a hawker stall to cater to the popular Malaysian pastime of streetside dining. Today, Pelita Nasi Kandar still uses the same age-old recipes enjoyed by generations before to deliver traditional mouth-watering dishes that are part of Malaysia's unique heritage.
Located at new rows of shop lots next to IOI Mall Puchong, Nasi Kandar Pelita is our choice for today's lunch. Parking spaces will be very limited as this is crowded area with offices around. Seating capacity will also be limited as high number of crowds.
Location:
G2, Jalan Merbah 2
Bandar Puchong Jaya
47170 Puchong
Selangor
Contact:
03 - 8076 9532
Website:
Location Map: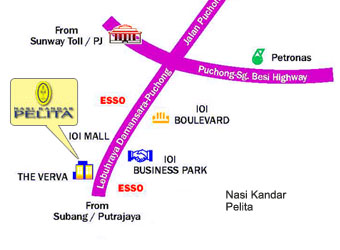 Other Location:
*Sungai Petani
*Penang
*Perak
*Bangsar
*Jalan Ampang
*Hartamas
*SS2, Petaling Jaya
*Ampang Point
*Subang Jaya
*Shah Alam
Our choice would be:
*Ketam Masala (Rm 12 - Rm20)
Stewed crab with spicy masala curry.
*Deep Fried Calamari (Rm 10)
Fried calamari takes the crunch in its succulent sweetness.
*Fish Curry (Rm 4)
A delight in every bite as the tender fish meat absorbs the herbs and spices of this savoury curry.
*Fried Chicken (Rm 4)
Free range of chicken fried to crispy perfection and garnished with fresh vegetables.
Visited this restaurant before? Do leave me a comment and shares your opinion about this restaurant with others!